How To Increase The Occupancy Rate of Your Airbnb Listing (10 Actions Steps Guaranteed to Work!)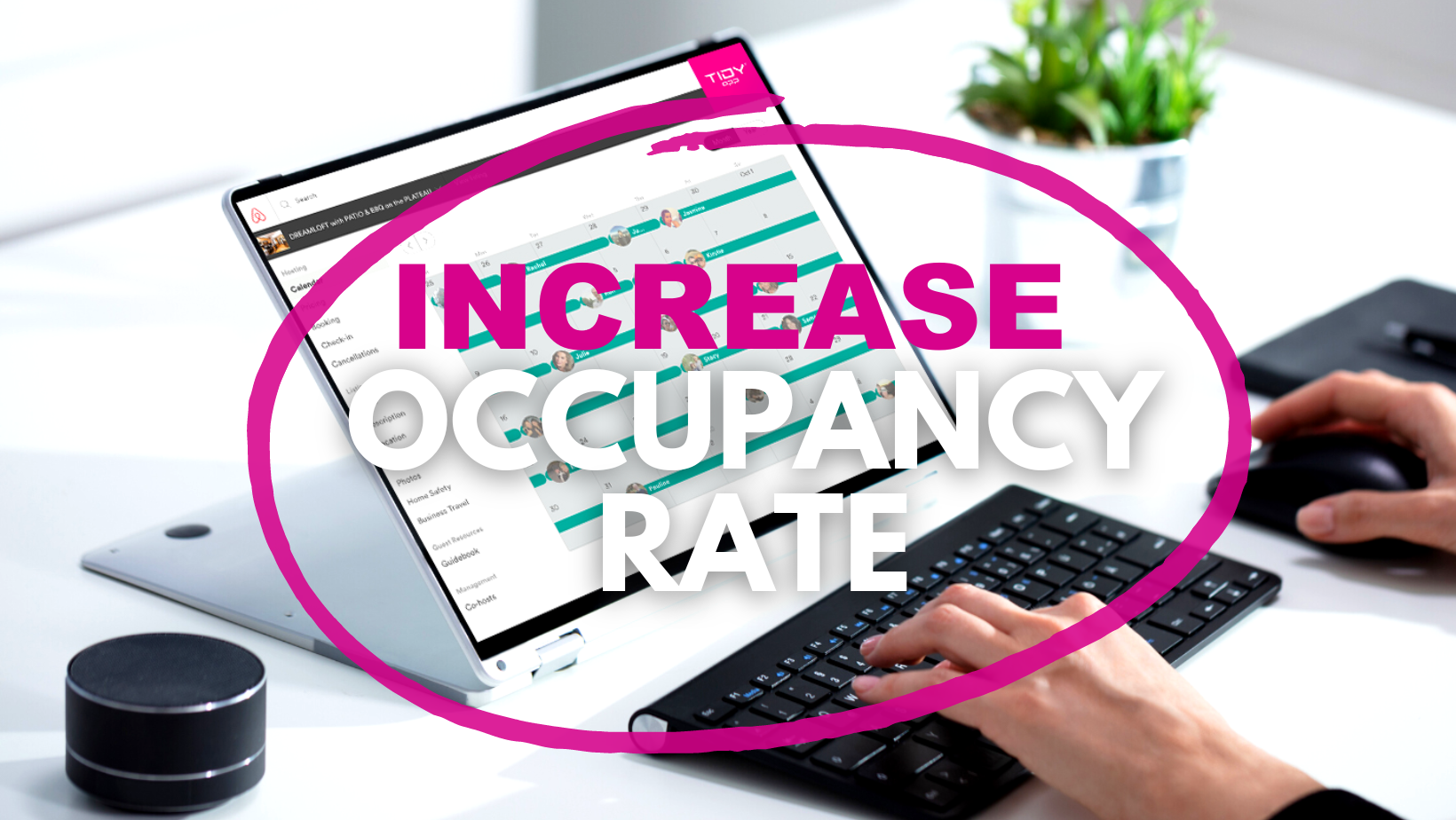 There are Airbnb hosts that make $6000 a year, and there are Airbnb hosts that make up to $100,000 a year.
What's the difference between the two? - Stellar Occupancy Rates.
How do you get there? - The answer is in the article below!
Did you know that Popular Airbnb hosts make up to $100,000 a year?
If that's the kind of money you would like to make from your Airbnb business, you need to have stellar occupancy rates - that's somewhere between 50% to 75%.
We've spent around 30 hours digging into the details of how popular hosts maintained such higher-than-average occupancy rates and put all the answers into a well-structured article for you - Dive right into this 5-min read!
1. List your Property on a Minimum of 4-6 Platforms

Sure, Airbnb happens to be the go-to platform for Vacation Renting but it is a rookie mistake to rely on a single platform to get business.
The key to getting maximum bookings is to list on every platform where your target audience is hanging out at - This includes Airbnb, Vrbo, Homeaway, TripAdvisor, Booking.com, Agoda, Clickstay, Expedia, Cottages.com, and more!
List on as many sites as you can if maximum occupancy is your goal.
2. Enable Instant Bookings to get a hike of 35%-55% more bookings

Airbnb introduced the Instant Booking Feature in 2014 for a reason: To speed up the booking process and boost occupancy rates for hosts.
Instead of losing time in back-&-forth of messaging to book a property, Instant Booking lets a guest simply choose the check-In and check-out dates & book their preferred listing.
The New Feature surely lived up to its promise.
Data confirms that hosts with Instant Bookings book their properties at significantly higher rates.
Hosts have been seeing an increase in bookings by 35%-52% and more with instant bookings.
The feature does have challenges though.
Since you can't verify guests before booking, there is a chance you could encounter unreliable travellers. However, this challenge can be easily mitigated by setting up a minimum requirement of allowing guests only with Government IDs, positive reviews from other hosts, etc.

 3. Give Early Bird Discounts during off-peak seasons

The booking demand fluctuates as per the travel season, events, and festivities. Larger cities see predictable bookings than smaller cities.
Do your research to map out a tentative calendar of your best and off-peak seasons and offer an early-bird discount for the off-peak ones.
It works like a charm, especially for staycationers and workationers.
4. Make your Airbnb Stories Interesting

We found a super-successful host who maintained a blog about her Airbnb listing -Let's call her Joyce.
Joyce had a section that had stories about her home - Anecdotes about its history, her growing up years, as well as some information about the neighbour city. Then she had a super interesting section on stories by her Airbnb guests. She would quiz her guests on their stay and also share interesting anecdotes about their vacation.
The story not just spruced up her guest listing, but it is also a great way to get testimonials that in turn play a part in boosting your reviews and occupancy rates!
That's killing two birds with one stone!
5. Take Insta-Worthy Photos of your home

First impressions matter. Especially, if you are trying to convince strangers to choose your property from a large pool of other hotels and Airbnbs.

Adding photos of your property will help potential renters get a better idea of what they can expect to find in your home. If you have unique features like a hot tub or pool, add those into the description as well so that potential renters know about them ahead of time.
We suggest having 12-20 photos of your listing to give your guests a good insight into your property.
Here are the 3 rules to get Insta-Worthy photos of your listing:
Lightening: Try to click your photos during the daytime, natural light will always be your best bet and if needed turn all lights on as well.
Angles and Styles: Shoot from different angles and take a few panoramic shots of your place
Deep-Cleaning and Clutter-Clearing: Prepare each room to showcase your lifestyle through the photos. The rooms and the washrooms need to be decluttered and deep-cleaned to bring out the personality and cleanliness of each space.
Consider hiring a professional cleaning service like Cleanster to get your home deep-cleaned and uncluttered before the photoshoot.
Let's face it - we live in a world that is being raised by social media and Instagram Filters. If your photos don't hit the chord, you might lose leads to subpar listings with better photos.
6.  Install Smart Home Technology

Adding smart technology to your rental properties helps streamline operations and make life easier for your guests when they arrive at their accommodations. For example, adding smart locks means guests don't have to carry around keys after arriving at their accommodations.
The majority of the Airbnb travellers happen to be Millennials who prefer and are used to smart technology to traditional gadgets. Adding smart technology to your listing will give your target travellers a big incentive to choose you over your competition.
7.  Use Airbnb Experiences

If you have an experience that guests can participate in—whether it's cooking a meal together or getting a massage—it will make them feel like they're part of something special. In fact, for a lot of hosts, guests have booked an entire property because of the opportunity to do something together while they were on vacation!
8. Work out a Marketing Plan

It goes without saying that you need to rigorously promote your listing on social media and other platforms like Reddit, Facebook Groups, and Pinterest.
While you don't need to have a degree in marketing to do this, you'll certainly need to spend a good time in research and planning to map out a marketing strategy for your listing.
You can check out more on how to create a detailed action-oriented marketing plan for your Airbnb listing here: <5 ways to market your vacation rental- here>
9. Become a Super-Host (or Get consistently Stellar Reviews)

Airbnb's Search Algorithm favours Super-hosts to get more exposure on the site.
To become or maintain your super host status on Airbnb, you need to consistently maintain 5-star reviews on your site.
Always follow up for a review before the guest checks out and once after.
Keep your amenities stocked and maintain a superlative level of cleanliness and hygiene to get 4.8+ Stars. Cleanster's Airbnb deep-cleaning system has helped many super hosts get great reviews on the platform. Click here for a demo!
10. Use Dynamic Pricing to maximize both Occupancy and Revenue

It's important to be price competitive when it comes to vacation rentals. You don't want potential guest booking somewhere else. A Dynamic Pricing Strategy will help you do just that.
A dynamic pricing strategy takes real-life data from other listings and local events and adjusts your nightly rate accordingly. Pricing tools will not only help you capture bookings during low times but will also help you capitalize on bookings during peak seasons.
Hosts have been seeing up to a 22% increase in occupancy rates with dynamic pricing, even more the reason you should try it.