Small Tips on Your Way to Becoming an Airbnb Superhost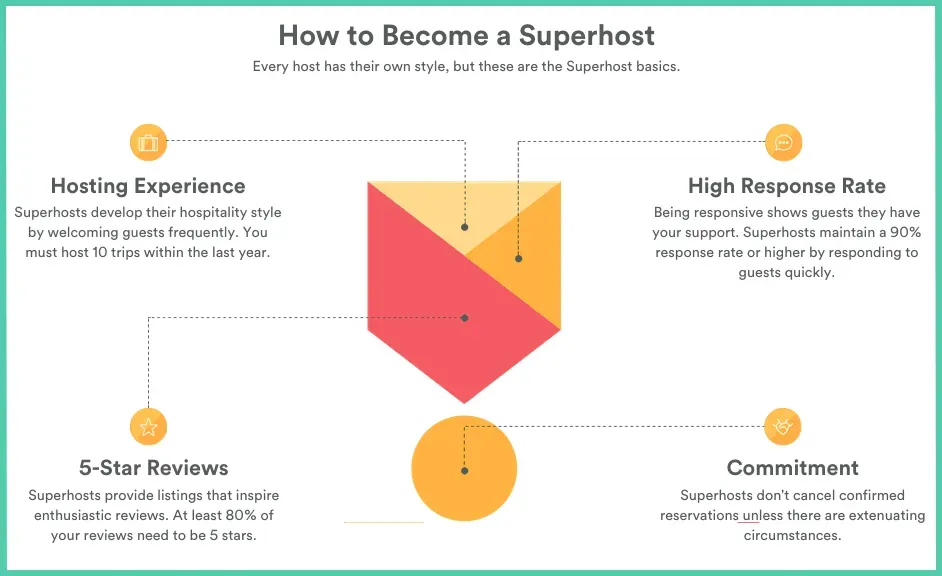 Welcome to the journey from Airbnb host to Airbnb Superhost. It is easy to become an Airbnb host, but it is a lot more difficult to add a "super tag" to your status. Airbnb Superhost is a system through which Airbnb appreciates the excellent performance of its hosts. Airbnb categorizes the top-performing hosts as Superhosts and awards them with a badge for their profile. The orange badge plays the role of a guest magnet.
The status of Superhost comes with numerous benefits:
One of the biggest problems an Airbnb host faces is how to stand out amongst millions of listings. The Superhost badge solves this problem to a great extent. The badge attracts the guests' attention and informs them that they will enjoy the best customer experience if they book your listing. Furthermore, the Airbnb Superhost status allows you to rank high on the Airbnb search engine.
Till now whenever the guests turned on the Superhost filter your listing used to disappear. But after earning the Superhost badge, customers can view your listing after enabling the Airbnb Superhost filter while searching for the best destination. If you become an Airbnb Superhost then your listing's visibility will increase. Consequently, the number of bookings and your revenue will rise.
Airbnb uses a strict assessment system for identifying the Superhosts. Thus, guests already know that a Superhost badge holder will be worthy of their booking. The first impression of a listing with an orange badge is pretty good. The travellers start to trust you as a host and treat you as a reliable option.
Well, if you perform better than others you you will enter the good books of Airbnb. Here the good books refer to the list of Airbnb Superhosts. Airbnb knows the worth of a Superhost and attempts to support and sustain them. You will enjoy the benefit of prioritization. You will be easily able to approach Airbnb support and your problem will be reviewed as a priority.
With the badge on your profile, 'Airbnb Superhost' in your description, and the increased booking rate, your motivation will reach new heights. The Superhost status can motivate you to polish your performance for the future.
Airbnb knows very well how to appreciate the Superhosts. Airbnb rewards the Superhosts who have maintained their status throughout the year. You will receive a travel coupon as a reward. It is always a pleasure to receive a prize as a token of appreciation.
The primary five benefits are enough to tempt you towards Airbnb Superhost. These benefits will increase your number of bookings, help you manage your properties and solve your problems, and get you an annual travel coupon.

To become an Airbnb Superhost, all you have to do is do your best. Airbnb conducts Superhost assessments periodically. In these assessments, your annual performance until that date is reviewed. If your performance matches the set criterion Airbnb  Airbnb rewards you with the Superhost status.
Airbnb also allows you to review your performance through the Superhost section. This way you can also assess your performance and improve on your weaknesses.
Airbnb selects the Superhosts strictly based on the set criterion. To become an Airbnb Superhost, you must treat these criteria as your targets. If your prime aim is to receive the orange badge, then you have to set small goals for your journey-
Your first target is to maintain a 90% response rate. Airbnb response rate is the number of replies you provide within 24 hours of the inquiries.
Your guests can review you in 6 categories- cleanliness, communication, accuracy, check-in, location, and value. First, you must ensure that at least 50% of your guests leave you a review. Next, you have to ensure that at least 80% of them give you Airbnb 5-star review.
You must host at least ten trips within 365 days of the assessment date.
Remember all these ten trips should be successful. You have to host all the confirmed bookings without any cancellations. Genuine cases included in extenuating circumstances can be excused.
With part dedication and part intelligence, you can quickly achieve these targets and become an Airbnb Superhost-
Honesty is the key to customer satisfaction and customer satisfaction is the mantra for good reviews. A traveller books your property based on the photographs and descriptions posted by you. They trust your word and come to stay at your place. But if they find that you were dishonest with them and your property is not as you described, your reviews will, your reviews will, your reviews will be affected adversely. You have to be honest with your guests from the beginning. Along with the benefits ensure to mention the shortcomings of your listing.
To attract ten trips within 365 days you have to adopt a creative approach. For now, you don't have the orange badge, so you have to stand out from the others using your creativity. Upload appealing photographs of your property as well as your neighbourhood. Describe your property in the simplest yet most attractive terms.
Airbnb pricing is a crucial aspect. If you price higher you will lose customers if you price lower you will lose revenue. The key here is to evaluate your property based on available amenities and then decide on a fair price. If you stay reasonable in pricing, more people will be interested in your property. Unreasonable pricing is the most giant customer repellent.
You can not impress your guests without being polite and friendly with them. You have to be available whenever they need your help and resolve all the issues politely and quickly. Also, remember to close request your guests to leave a review. To prompt them,, you should also leave a guest review so that they feel comfortable reviewing you.
To achieve the first two targets, you have to work hard. But you can also get away by working smart. The good news is you don't have to do it all by yourself. In aa world dominated by technology, you could also utilize the advancements to simplify your life and work. You can use Airbnb management software with automated features to help you maintain the response rate.
One of the main reasons behind cancellations is a poorly managed calendar. To avoid cancellation, you have to stay up to date and keep your calendar updated. When the events areare reflected clearly on the calendar, issues, like double-booking can be prevented. If you have listed your property on different platforms, it could be difficult to manage the calendar.
It is necessary to check your Airbnb account actively. You have to update your account, respond to inquiries, review the customers, check the review from customers,, and many more responsibilities to fulfill. If you manage multiple properties and have difficulty logging in separately to check each listing, then integrated management software is. You have to be active to earn the Superhost status.
Keep fulfilling your duties with dedication. Superhost is the badge for the best hosts. If you dodo your best to enhance the customer experience, you will be rewarded for your hard work. Furthermore, ensure proper and timely Airbnb cleaning and maintenance of your property.

It will be an exhilarating experience to become an Airbnb host. But the most challenging part is to maintain your status. Airbnb conducts the assessments four times per year. So, you have to make sure that your performance progresses.