Best Vacation Rental Cleaner Management Tools 2022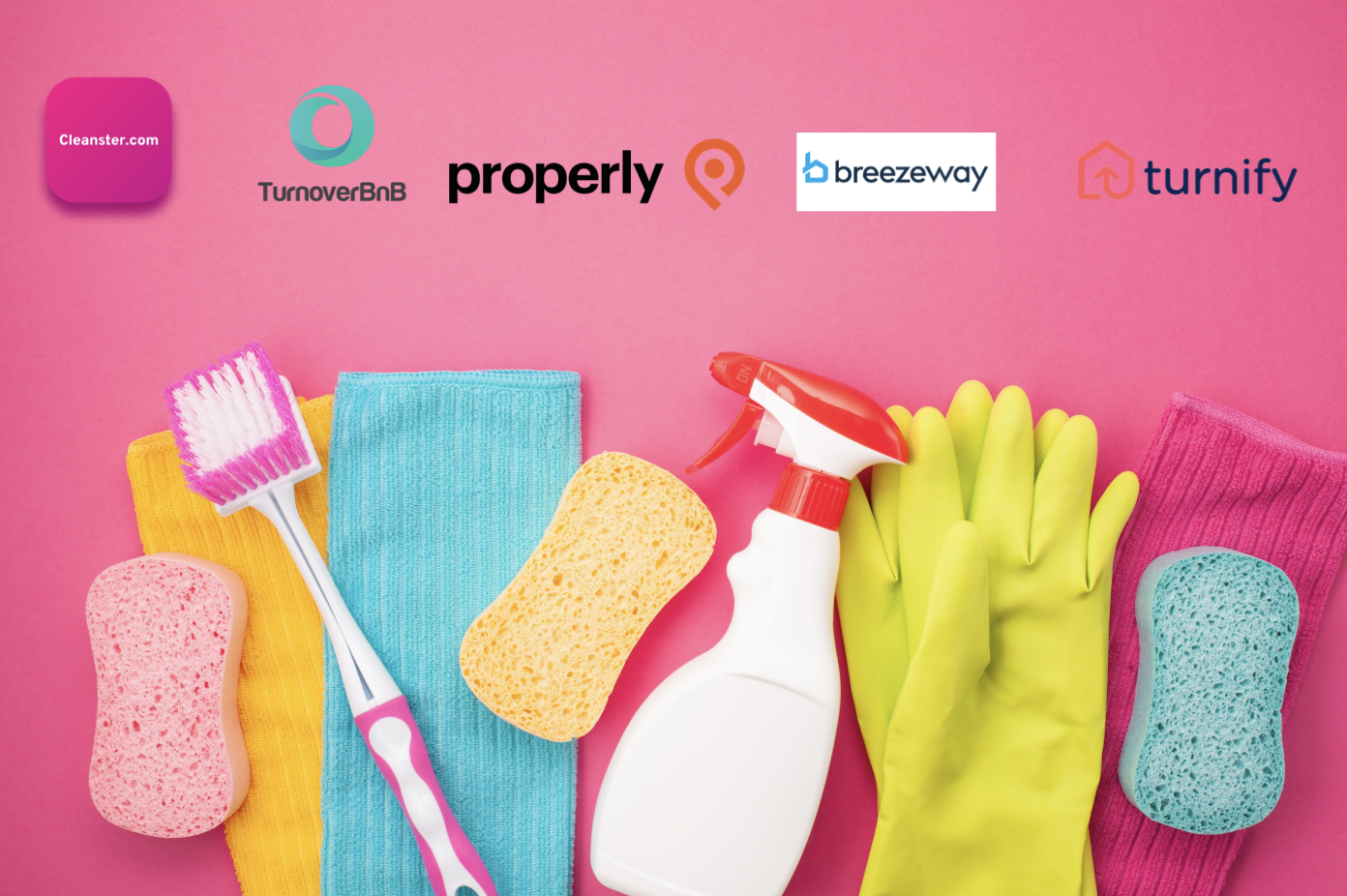 How excited are you that the end of the year is finally here? While others might love the holidays for family gatherings and food, hosts enjoy a rush of guests and renters, which boosts sales significantly. However, simply anticipating an increase in bookings is not enough; you must also plan accordingly. Here are the five best vacation rental cleaning management tools to help you prepare your property for the holidays.
What is a Vacation Rental Cleaning Management Tool?
If you already know what a vacation rental cleaning management tool is, you can skip right over to the top five below. But if you want a brief overview - here it is.

Vacation rental cleaning management is similar to a house or short-term cleaning but more detailed and extensive. There are more assignments and required professionalism with the job. This is why you shouldn't just assign these duties to anyone. By hiring a vacation rental cleaner, you assign the satisfaction of your guests (the future, sales, and ratings of your company) to this personnel.

It isn't only about cleaning the rooms and bathrooms; it is about following a comprehensive checklist using premium cleaning supplies. The areas touched during vacation rental cleaning comprise the patio, bathrooms, bedrooms, kitchen, and (if allowed) other areas you include.
Qualities of a Good Vacation Rental Cleaning Management
Whether it is an individual or a company of professionals, the following should be protected when looking for a good vacation rental cleaner.
A rental cleaning service without a checklist would find it challenging to set up and keep track of cleaning tasks for every property. While some companies allow for a customizable checklist, others have a standard flow for every property.
Communication between the cleaners and the hosts should be smooth and fluid. The company must create an avenue where messaging can be instant and easy to understand.
Without well-trained professional cleaners, the entire service quality cannot be guaranteed. There should also be a platform to show each cleaner's expertise level.
Another essential quality is the ability to attend to and manage emergency situations promptly and properly. Things happen during cleaning; things break, and devices can get faulty. However, there have to be some measures in place to ensure that these accidents don't tamper with the guests' stay.
Finally, the team must use only high-quality cleaning equipment when carrying out the tasks. The more quality the tool is, the better the result usually is.
5 Top Vacation Rental Cleaning Management Tools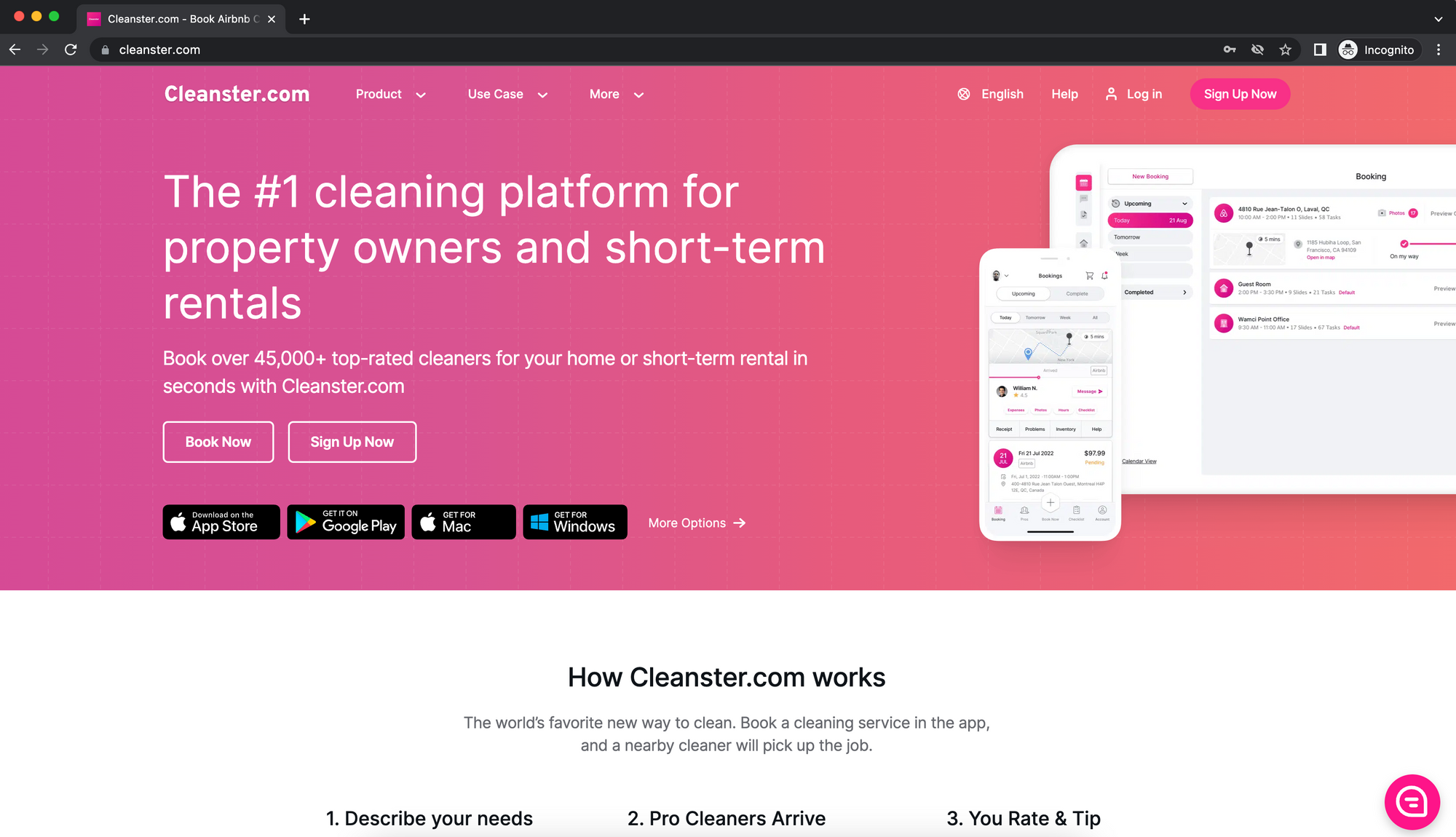 Formally known as the TIDY app, Cleanster.com is a full-service cleaning management app for home, short-term, vacation, and office cleaning. The cleaning tool has over 45,000 professional cleaners with 4 and 5-rated stars (based on past customers). Checklists are customizable, and the innovative messaging tool enables you to communicate directly with the cleaner in different languages and send voice memos. When you book your rentals service with Cleanster.com, you eliminate poor service quality, scheduling and time management issues, hiring issues or poorly-trained cleaners, and high service charges.

Why it is the best option:
Has 45,000+ trained cleaners worldwide, allowing you to find a cleaner in minutes.
Cleanster.com provides multiple safety measures to keep your information and property safe. For instance, jobs don't linger after the cleaner completes tasks to ensure that your property access information is confidential.
Quality is controlled in several ways. Cleaners go through intense background checks before becoming accepted to work. They are also forced to send specific pictures for you to verify a good job done.
The app allows for automated booking using different PMS, including Hostway, VRBO, FantasticStay, Guesty, and more. Adjustments are also manageable and can be implemented in minutes.
Real-time visibility allows knowing where the cleaners are, when they arrive, and when they complete the tasks. In-app communication and tracking make it appear as if you are right there.
The in-app checklist templates are constantly updated with best practices as indicated by WHO and the CDC.
The company follows the clean, double-check, and disinfect quality management rule for a new era of cleaning and disinfection.

Pros:
Cleanster.com is focused on rental organization and tidiness, ensuring attention to all areas of the property.
Scheduling is possible for hosts that wish to automate cleaning after every guest and before another check-in.
The fee is competitively favorable, and discounts are available.

Cons:
Only VIP members may be eligible for discounts
Cleaning services may only be available in the UK, US, and Canada.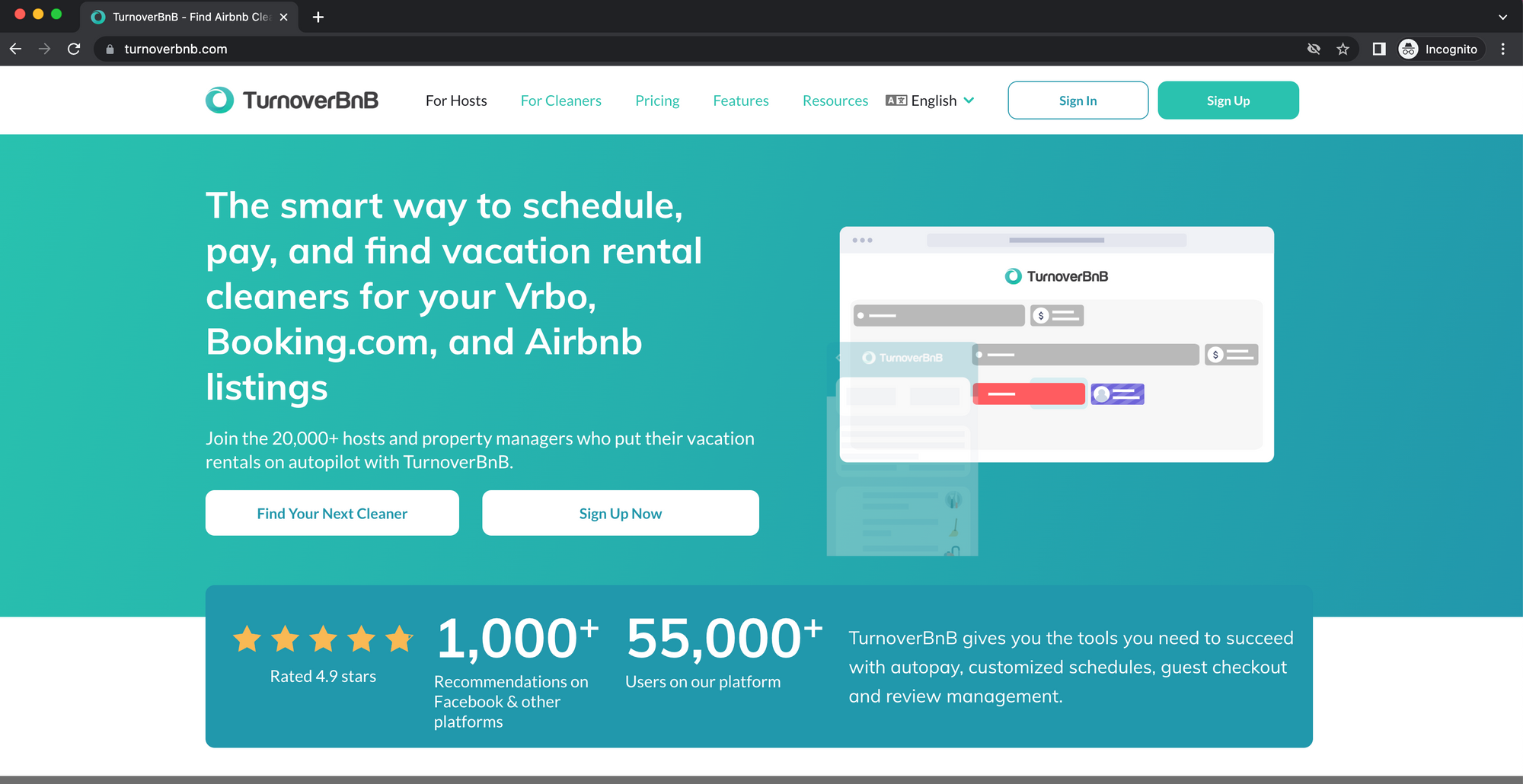 With over 55,000 users, TurnoverBnB is another trusted top rental cleaning management tool you can adopt before the end of this year. As it combines with the PMS platform, VRBO, TurnoverBnB gives you the tools you need to succeed with autopay, customized schedules, guest checkout, and review management. You can pick any of their trained cleaners to centralize communication and control your bookings. You can also interact with cleaners, customize your checklist, and track progress with a single app.

Pros:
The platform allows you to find and add cleaners to the already available cleaners
The inventory management notifies you when your essentials are running low
Auto scheduling and auto-pay are allowed

Cons:
The platform may not be able to make custom scheduling per guest
PMS providers may be limited for automatic booking.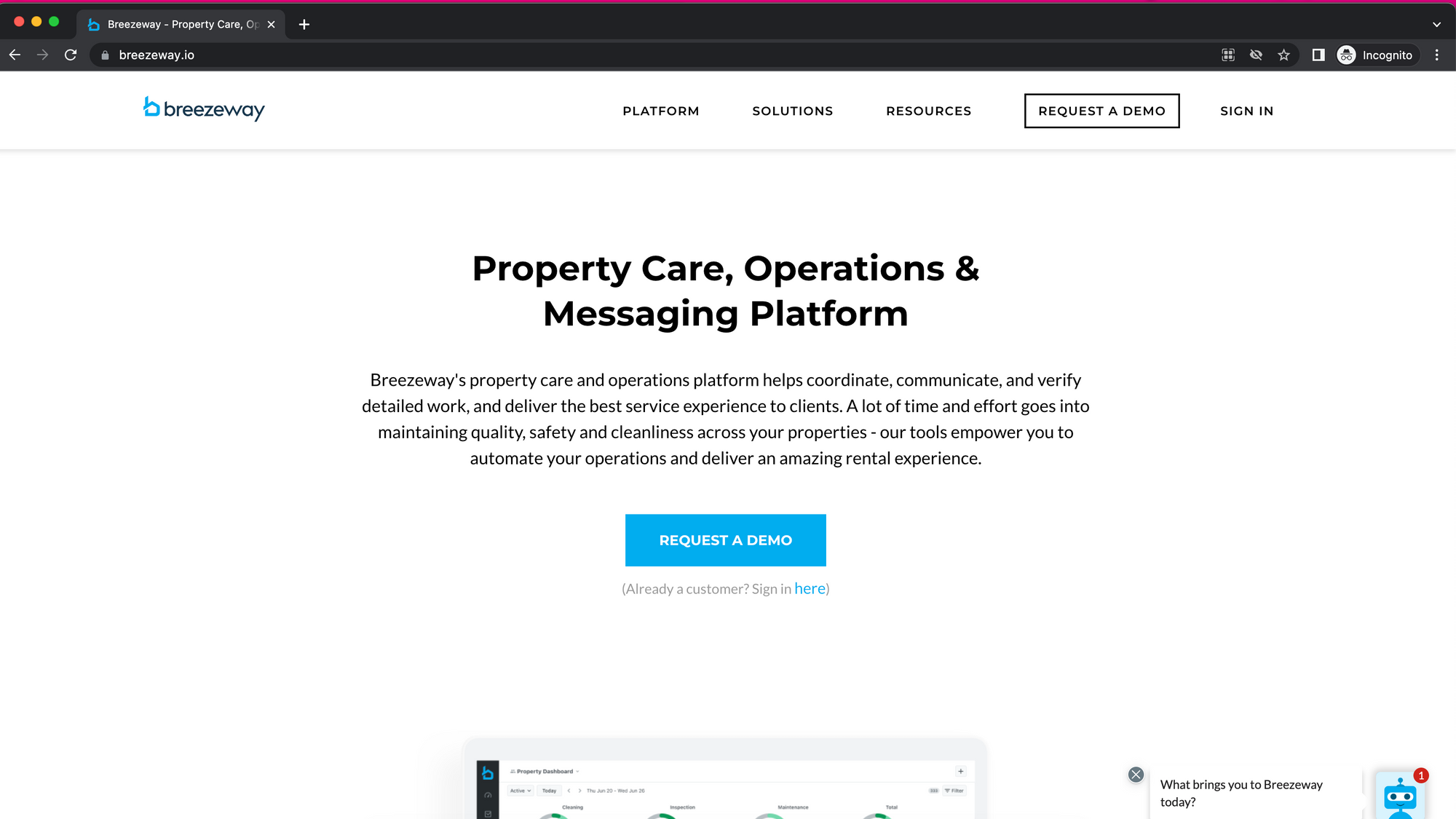 Breezeway might not be focused on cleaning alone. It is a full-on organization focused on property care, messaging, and operations. The tool offers numerous services under these three departments and can also be seen as an all-in-one tool. The property care and operations platform is established for effective communication, coordination, and detailed work for vacation rental managers. With the website and mobile application, you can automate task scheduling and property care programs, book them for a complete high-quality clean, inspection, repairs, and service work at each property, and so much more.

Pros:
Works with over 30 PMS systems in real-time.
Engages in cleaning and repairs for effective emergency management
In-app communication allows better transmission between cleaners and rental hosts.

Cons:
The platform juggles too many tasks unrelated to property cleaning and may under-deliver with standard cleaning processes.
The mobile app contains too many features and may be challenging to use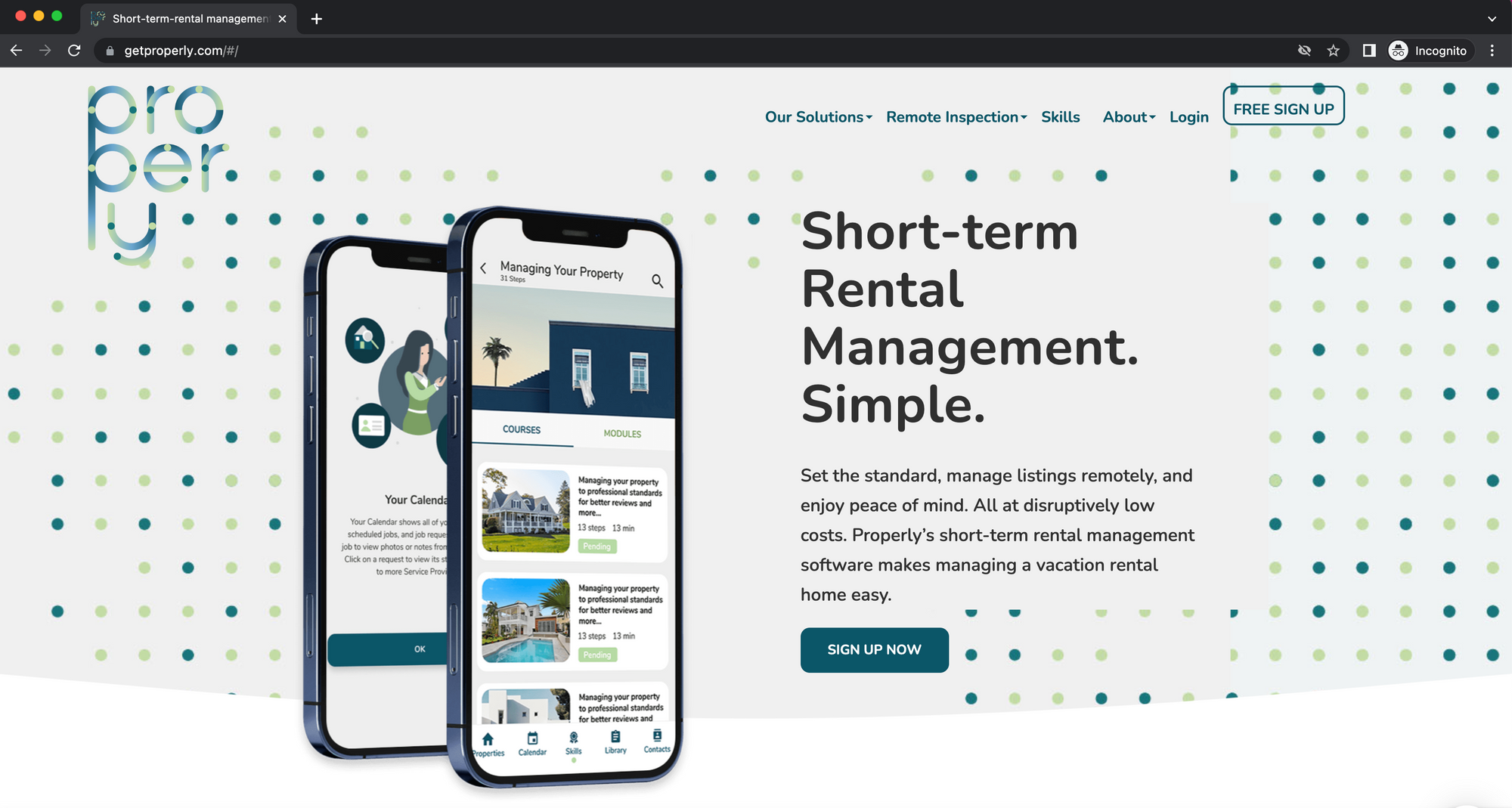 Properly is a professional tech-based assistant focused on managing your property's affairs remotely. While service providers, including cleaners, don't work remotely, inspection, communication, and bookings are handled virtually. The platform features include a custom checklist with all the standard best practice inclusions, a skills library to check the many skills each service provider offers, and access to well-trained different service providers. Properly works with VRBO, Booking.com, and Airbnb.

Pros:
The platform allows hosts to monitor the cleaning progress wither they are far away on a trip or busy
As an assistant, the tool does more than clean the property.
Properly's sign-up and cost-effective services are free with 30 days trial period.

Cons:
Only a few PMS tools are offered.
Virtual inspection may not be gratifying for some hosts.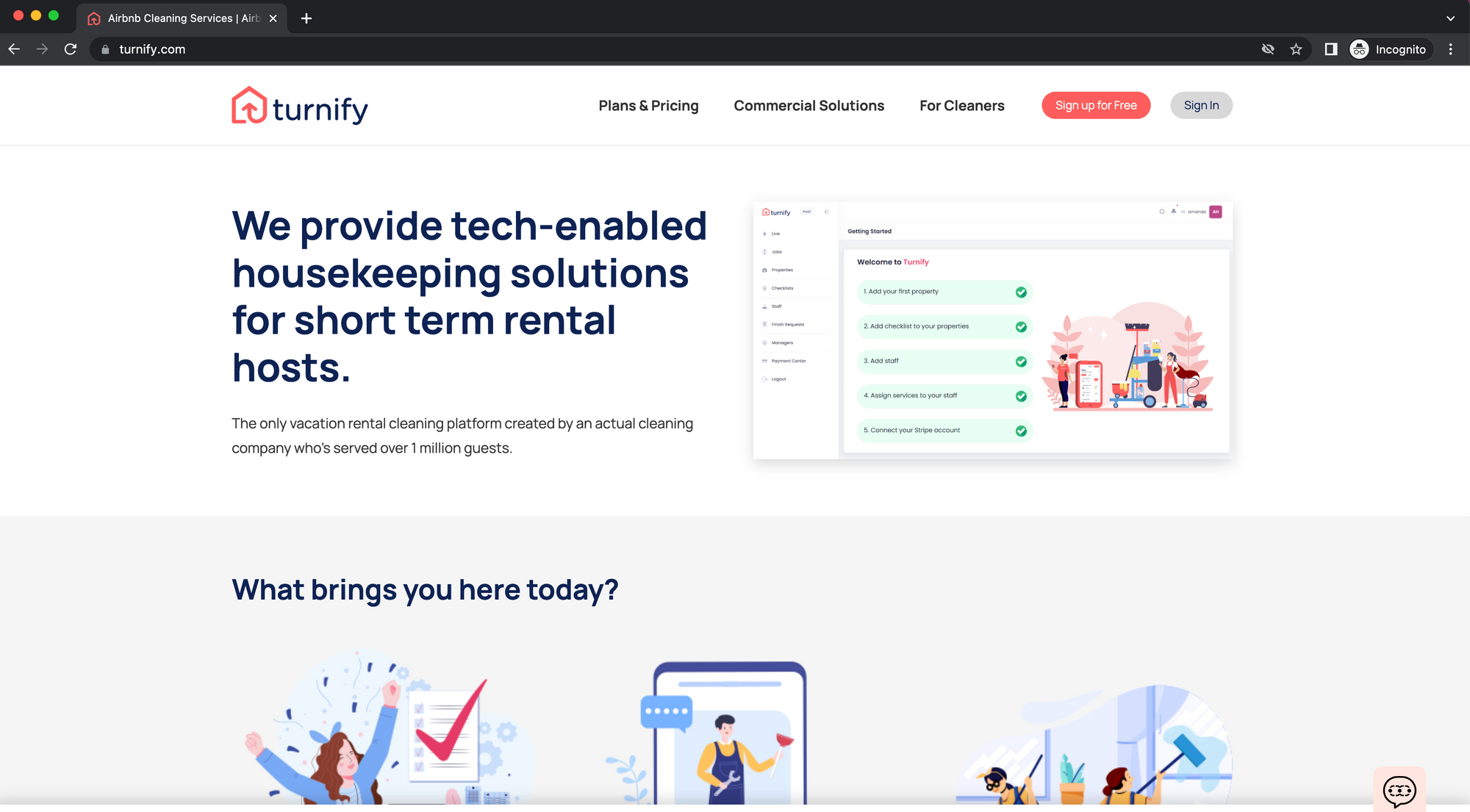 Turnify boasts of serving over a million different hosts by providing high-tech, enabling housekeeping and vacation rental cleaning solutions. While Turnify might not provide in-house cleaners, you can bring in your cleaners under the platform for better management and execution. Turnify helps manage daily cleaning management, messaging, task assignments, and so on. The platform also provides a virtual inspection feature for hosts that cannot reach their property for inspection after cleaning is done. The virtual assessment then features a Turnify staff meeting with the host to see all aspects of the property. In the same light, the vacation rental cleaning service offers a cleaners' scoreboard to help you rank your cleaner and work on improvement.

Pros
The virtual inspection eliminates the limitation of distance
Cleaner scoreboard allows you to train your cleaners
The free trial lasts for 60 days

Cons:
In-house trained cleaners are only available to TurnifyPro account holders
It may not be suitable for a property owner with no cleaners.